Gemak voor u en uw patiënten
De online agenda maakt de workflow in uw kliniek efficiënter. Een belangrijk deel van tijd die voorheen aan de telefoon of aan de balie gespendeerd werd aan het maken afspraken komt nu vrij. De patiënt maakt nu zelf de afspraak online.
Laat uw patiënten zelf hun afspraken online maken
De patiënt kan de beschikbare tijden per zorgverlener binnen de kliniek bekijken en vervolgens een zorgverlener kiezen en daarmee een afspraak aanvragen. Indien gewenst kan de patiënt de keuze voor de zorgverlener binnen het specialisme ook aan de kliniek overlaten.
De online agenda is via internet toegankelijk via computer, smartphone en tablet.
Efficiëntere workflow: reduceer de tijd die uw medewerkers besteden 
 aan het maken van afspraken met patiënten
Geen papieren afspraakbriefjes (die makkelijk verloren worden) meer nodig
Patiëntvriendelijk: snel en makkelijk, zonder telefonische wachttijd, 24/7 beschikbaar: de patient kan de afspraak op elk moment maken en kan een datum en tijd kiezen die de patiënt het best uitkomt.
Uitstekende combinatie met de DiSy Notify module voor minder no-shows, notificaties via e-mail- en sms met personaliseerbare teksten.
Moderne look en feel inclusief uw eigen logo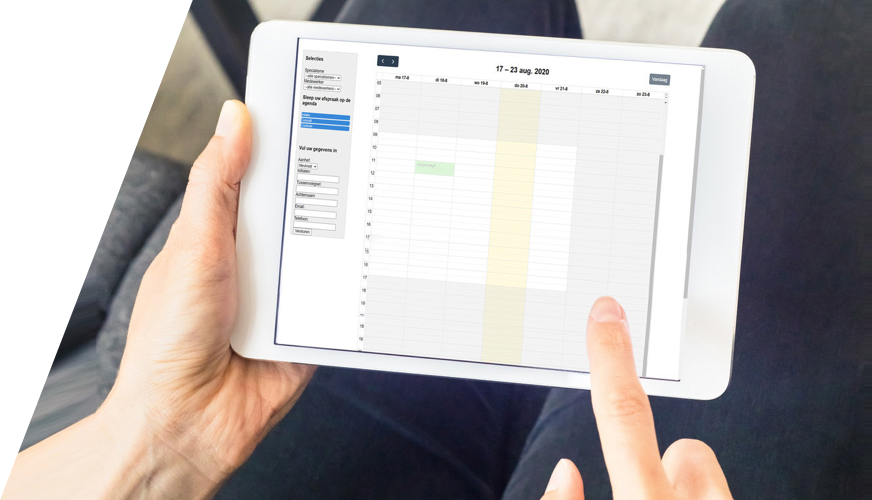 Gedetailleerd in te stellen
In DiSy kunt u precies aangeven wanneer een zorgverlener wel en niet beschikbaar is voor online te maken afspraken.
U kunt zelf instellen hoe lang online te maken afspraken duren en ook of voor on-site, telefonisch en/of video gekozen kan worden.
Patiënt kan zelf een arts kiezen of de keuze van de arts aan de kliniek laten.
Overzichtelijk voor de patient
Voor de patiënt, die de boeking online maakt, is zeer overzichtelijk op welke tijden een afspraak gemaakt kan worden. Hierbij wordt natuurlijk rekening gehouden met niet beschikbare tijd zoals vrije dagen, feestdagen en vakanties van de zorgverlener.
De patiënt kan bij het maken van de afspraak kiezen tussen een on-site, telefonische of video afspraak. Met drag en drop kan de afspraak op de beschikbare datum en tijd geplaatst worden.
Voorkomen fake afspraakaanvragen
Om te voorkomen dat er zomaar afspraken worden aangevraagd is de aanvraag beveiligd met een code. Na het vastleggen van de benodigde gegevens wordt een code toegestuurd per e-mail of sms. Pas na het opgeven van deze code wordt de afspraak-aanvraag ingediend.
Automatisch geïntegreerd met DiSy
De in de online agenda gemaakte afspraken worden automatisch in DiSy verwerkt. Naar keuze ontvangt u een notificatie dat een afspraakaanvraag gedaan is of de afspraak kan automatisch geaccepteerd worden. Wanneer u in DiSy u een online gemaakt afspraakaanvraag accordeert wordt de afspraak direct verwerkt in de agenda van de desbetreffende arts en de patiënt ontvangt een bevestiging. Een afwijzing van de aanvraag wordt natuurlijk ook automatisch doorgegeven aan de patiënt.
Meer over